Web Design Romford
Are you a business owner looking to enhance your online presence? Do you need to showcase your products and services to a larger audience? Then you have come to the right place!
Let us build you a fast and responsive website to fully suit your needs and desires.
SiteBuddie can help provide the web presence and visibility you need for you and your company and projects. We can help you create a visually stunning, clean, and professional website that effectively promotes your brand and communicates your message to your desired audience.
What Can Deliver For You
We can work with you to deliver the results you desire for your website and business in Romford. We will work with you step by step to get the look and feel of the website just right and in line with what you need.
Whether you need a website to promote your services and show them at their best or somewhere for your customers to make purchases, we can design, build and hand over a website that does what you need it to.
Why Work With Us For Web Design In Romford?
Our aim is to give you a fully functioning website that meets your needs without costing you more than it should. Web design is made out to seem far more complicated than it needs to and most businesses need simple but fast and efficient websites to make the most of their offerings.
We keep things simple so that we can hand over a site that will be impressive to you and your future customers in Romford.
We will work with you every step of the way to ensure that your website is not only visually stunning but also user-friendly and optimised for search engines.
In today's fast-moving digital age having a strong online presence is an absolute must for the success of any business. Don't allow your competitors to steal a march on you – invest in a high-quality website and help your business thrive.
Sites Built With SEO In Mind
We build our sites with Search Engine Optimisation (SEO) in mind so that you have a website from day one that can rank well on Google and other major search engines and obtain organic traffic.
Users acquired from Google tend to have a far greater search intent and ensuring your website is built with SEO in mind means you can start to benefit and place yourself in between potential buyers of your service and their final purchase.
Our Process For Web Design Services In Romford, Essex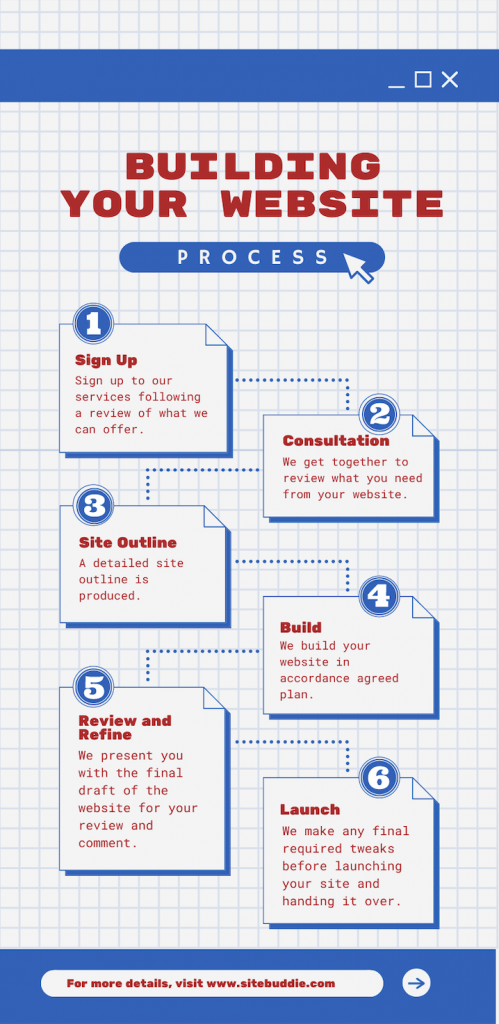 Step 1 – Sign Up To Our Services
We get you onboarded and agree on the scope of work as well as a timeline for completion of the work.
Step 2 – Consultation
We get to know your requirements and desires for your website in detail including:
Purpose of the site
Your target audience
Desired look and feel
Any specific functionality
Step 3 – Site Outline
At this stage, we detail the desired outline and content of your website.
Step 4 – Build
We get to work on building the website based on the pre-agreed plan and timeline.
Step 5 – Review and Refine
The final working draft of the website is presented to you for your review and comment. Any agreed changes are implemented prior to a final review and sign-off.
Step 6 – Launch
Your website is launched and handed over.
See Our Work
Screenshot-2022-04-27-at-22.30.05
Screenshot-2022-04-27-at-22.29.57
Screenshot-2022-04-27-at-22.33.30
Screenshot 2022-05-04 at 14.29.46